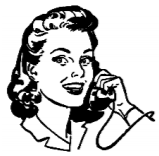 Dear Tiggy,
I've worked for a state agency in New Hampshire for seven years but I'm almost ready to throw in the towel. I've experienced relentless harassment from some of my coworkers regarding my bisexuality. It's mostly just one person, although she gets the others in on it. The harassment is not usually overt, just the constant hammering of snide remarks, day after day. Maybe that doesn't sound so bad, but it's like death by a thousand paper cuts and I can't take it anymore.
I've tried to point out this behavior to my boss a few times; he just denies it. I summoned the courage to complain once through the proper work channels but was met with silence. The worst thing is, I can't face the thought of being out of a job over this, especially in this economy. I'm not sure where to go from here.
– Worked Over
Dear Worked Over,
Contact GLAD, Gay and Lesbian Advocates and Defenders, at 617-426-1350. Their website, www.glad.org, is a fantastic online resource, although I think you should relate your specific situation to a GLAD lawyer. Don't worry–you'll see on their site that they're knowledgeable about laws relating to bis, not just gays and lesbians. The folks at GLAD can tell you what your best legal options are.
You know when you'd tell your mom that someone was ragging on you, she'd say, "They're just jealous"? You know how you thought she didn't know anything, that they obviously weren't jealous at all; they just knew what a dork you were? Well, your mom was right then, and she's right now. Adult bullying often occurs when the "bully" feels threatened by and inferior to the "victim." The main person bothering you likely thinks that you're a better employee than she, or more in touch with your sexuality. This is her problem and you cannot change it, even if you figure out what trait she's jealous of and try to downplay it. (That will backfire, as she is a bottomless pit of insecurity.)
Confronting her might get to her stop, but don't think of "confrontation" as yelling in her face or telling her to meet you behind the bleachers for a beat-down (although, wouldn't that be awesome? No, seriously, don't do that). One way of doing it without getting in trouble at work is to calmly ask her, "Do I make you uncomfortable?" I've seen venerable advice columnist Carolyn Hax recommend this in other circumstances, and I think it's genius.
Brace yourself because this is going to hurt to hear: start looking for a new job if you haven't already. Believe me, I don't take your concerns about the job market lightly, as I was out of work myself in this difficult economy. However, harassment takes a terrible toll on your mental, emotional and even physical health, and making a point is not more important than taking care of yourself. If you leave, your bullies do not "win"; you win the happiness you deserve, and they continue to be their miserable selves. It is horribly unfair for a harasser to drive you out of a job you enjoy, but I believe it's more accurately framed as taking control of your environment and choosing the healthiest situation. I hope you keep this in mind when choosing a plan of action.
– Tiggy
Are you a bi lady in need of some good advice? Write to Tiggy Upland at tiggyupland@gmail.com. This advice column is for entertainment purposes only. The columnist reserves the right to edit the letters for any reason. Find more Ask Tiggy on www.biresource.net.