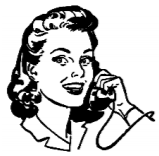 Dear Tiggy,
My husband of 14 years left me in February. I'm recovering, although I'm still not sure if I miss what we had or I'm just scared of being alone. I have five wonderful kids and am only 33 years old.
I started dating again and have slept with four guys – one of whom I dated for a while – but it was not enjoyable for me. The flirting was fun and the attention was great, but when it comes down to it, I really don't enjoy the sex.
I have been attracted to women lately. As a teenager, I was badly tormented about not finding a lot of men attractive and preferring my close female friends. I recently told a lesbian friend how only two of the men I have ever been with satisfied me. She thinks I'm like her but I told her that I was too old to start dating women. Every lesbian I know is, like, 20 years old.
I'm scared of dating. I already broke one man's heart, although we were not together long. I thought that dating was to get to know someone, not to fall instantly in love, but now I'm afraid I'll hurt someone's feelings. I might want a serious relationship if I found the right person but how do I do that without getting to know people? I don't want anyone to get hurt.
I think I'm bi since I am attracted to some men, though not many. Is my confusion due to my breakup? Is this part of figuring myself out? Is it OK to explore?
– Dazed & Confused
***
Dear Dazed & Confused,
Sounds like you're sowing some wild oats after being married since age 18, and there's definitely nothing wrong with that. I give you kudos not only for getting through a tough time but also for being sensitive to the feelings of the folks you're dating and/or sleeping with. You've got the right idea: dating is for getting to know people, and you can't decide if you're interested in someone as a more permanent partner without it. You owe your dates respect for their feelings and open communication – that is, honesty without unkindness. But at the end of the day, if you haven't made a commitment to them, you have nothing to feel guilty about if you decide that you're not a match. Being a little vulnerable to hurt feelings is the price of admission for dating. (Sucks, but there it is.)
You're also embarking on an exploration of your sexuality – fun! Same dating rules apply: respect and communication. And, Lord, woman, do have any idea how many bisexual and gay women there are in your dating-age range?! Many of them are still figuring out what they enjoy in love and sex, like you are. I think you should try to find a local "coming out" group to help with your self-exploration. You'll see there are many women well past 20 just like you. It is not even close to too late for you to get with the ladies, spring chicken! Shrug off the fear and the guilt, and go find those very special women out there waiting for you to light up their lives.
– Tiggy
Are you a bi lady in need of some good advice? Write to Tiggy Upland at tiggyupland@gmail.com. This advice column is for entertainment purposes only. The columnist reserves the right to edit the letters for any reason. Find more Ask Tiggy on www.biresource.net.