By Iyanna James-Stephenson
Like most Americans, if not most of the world, I revolve(d) around labels.
I grew up with the notion of a stark dichotomy. I was socialized to think of many things as having a name, being categorized, and being either/or. I knew there were men and women, gay and straight, black and white, and this extended framing to many other things I thought about. Although I was never a concrete-thinking individual and I never felt stagnant in my thoughts, I had a dichotomist view of the world based on our societal status quo.
Until I went to high school, I identified as straight. Once I came out in high school I began to identify as bisexual and express this identity to my peers. Once I got to college I realized that the dichotomist thinking I was used to, and how I identified, was very limiting. Bisexuality, I felt, did not wholly express the extent of my identity. I became best friends with women who felt the same way as I did – identifying as only bisexual, only straight or only gay. My best friends in school, and the college community at large, had taught me that I do not need labels; that labels were created to place people in boxes the way you do objects.
I soon tried to dismantle all things label-oriented when referring to myself. I tried to practice free living, without confined identities in regard to race, sexuality, class, socioeconomic status, etc. I found that was a bad idea. I realized, when studying the politics of race and the practice of labels within real space, that the absence of such is difficult. I also came to the personal realization that labels are not all bad, and grouping can actually be beneficial.
I adopted the wholly encompassing label of pansexuality when expressing how I identify sexually. This label says that anyone I am attracted to, no matter their age, gender or race, is fair game. But I reserve this label for use with certain individuals. When someone identifies as queer (used here as an umbrella term for those who are not straight-identified), I feel more comfortable expressing the fact that I am pan, because I think they will understand it and it will not need to be further explained. When I am speaking to someone who has a limited idea or knowledge of sexual identification and expression, I always use bisexual. People have heard of this before, it doesn't need to be debated and there are simple follow-up questions to the responses that I get for eliciting that particular sexual identification.
Queer people are not the only ones who receive the luxury of truly knowing the extent of my sexuality. I disclose my sexuality to family members and close friends as well. These are people to whom I don't mind giving a little bit of explanation, who love, care for and accept me fully, and to whom it wouldn't make a difference either way. It may also seem like "just a label" to them as well, since they have not witnessed me in a short- or long term relationship with anyone outside of the gender binary.
Regardless of whether I use pansexual or bisexual, I am comfortable with either. It is true that I am bisexual in that I have had relationships with people who have the same gender identity I do, and with people who have a different gender than I do. So far, my preferences have led me to have partners with cisgender men and women, in line with what most people think of when they imagine bisexuality. It is also true that I am pansexual. I may meet someone I am interested in who identifies as my same gender or a different one, and who may lie completely outside of the gender binary. In this case, pansexual might feel the more accurate label. One challenge that I have had with my sexuality is the fact that I must explain it to people. Another challenge is having to change what I say based on who is listening because society is not as accepting, especially when it comes to something they know little to nothing about. Yet another challenge with labeling is that I am still afraid to tell a few of my family members how I identify. In that sense, identifying as bi or pan has meant that I have to remain in the closet – or I feel that I must to savor the relationship I have with certain people. As many of us queer folk know, this is very hard. The fact that we feel we cannot be our true selves simply because that true self does not align with someone's way of thinking is disheartening, but it is something we live with in order to live with others.
The benefit of labeling is that it does categorize you. This categorization has led me to find a community. When I hear someone say "I'm pansexual," I am instantly at ease. I feel happy to be in the presence of someone who is like me. I feel comfortable with discussions of sexuality and expression. I feel, emotionally, at home.
And it is that safe space feeling that can make labels worthwhile.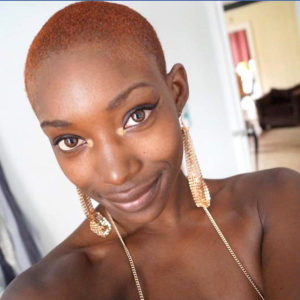 Iyanna James-Stephenson, 23, is a recent graduate from Mt. Holyoke College. She is a writer, blogger, poet and traveler who has visited eight different countries and is currently living and working in South Korea.