"Transgender, at War and in Love," a film by Fiona Dawson, an out bi activist, has been nominated for Outstanding Short Documentary in the 37th Annual News & Documentary Emmy® Awards.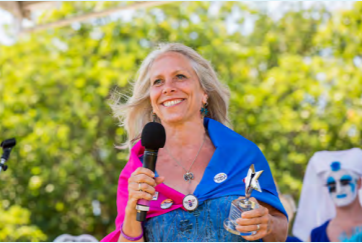 On June 25th, Robyn Ochs was celebrated at North Shore Pride in Salem, MA as one of the "Fabulous Five" for her community activism. She rode the parade route in a convertible and was given a trophy and a proclamation from the Massachusetts House of Representatives.
While the Transgender Accommodations Bill was handily passed by the Massachusetts State House and signed in July by Governor Baker, some opponents are still trying to defeat the bill another way. Organizers for the group Keep MA Safe are trying to gather 32,000 signatures by October in order to have a referendum question put on the November 2018 ballot. We will keep you posted on whether that campaign is successful or not.
The Movement Advancement Project (MAP), the Bisexual Resource Center (BRC), the Broadway Youth Center at Howard Brown Health, and Project Safe released in July a new report, Bisexual Youth: The unique experiences of bisexual youth experiencing homelessness. "The largest proportion of lesbian, gay, and bisexual (LGB) youth experiencing homelessness identify as bisexual: in a recent study of street outreach programs by the Administration on Children, Youth, and Families, 20% of youth identified as bisexual, compared to 9.9% of youth who identified as gay or lesbian, and 4.1% as "something else." Gender identity was collected separately from sexual orientation; 6.8% of youth in this survey identified as transgender. Despite bisexual youth comprising the largest proportion of LGB youth, bisexual youth have little access to targeted services. And a growing body of research shows that bisexual youth experience unique challenges and barriers that put them at an increased risk of experiencing homelessness." Visit: attheintersections.org/bisexual-youth/
The Movement Advancement Project (MAP) also just released in August "Unjust: How the Broken Criminal Justice System Fails LGBT People of Color." The report "examines how racism and anti-LGBT discrimination combine to make LGBT people of color uniquely vulnerable to entering the criminal justice system and also facing unfair and abusive treatment once they are in it. The report identifies three factors in the overrepresentation of LGBT people of color in the criminal justice system: racism and pervasive anti-LGBT stigma and discrimination in communities, schools and families; discriminatory enforcement of drug laws and HIV criminalization laws; and policing strategies and tactics that increase the likelihood of LGBT people of color being subject to police stops, arrest and incarceration." Visit: www.lgbtmap.org/criminal-justice-poc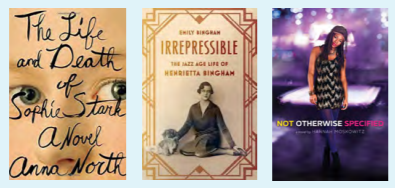 On June 6th, 28th Annual Lambda Literary Award Winners were announced. For Bisexual Fiction, the winner is Anna North, The Life and Death of Sophie Spark (Penguin Random House/ Blue Rider Press). For Bisexual Nonfiction, the award went to Emily Bingham for Irrepressible: The Jazz Age Life of Henrietta Bingham (Farrar, Straus and Giroux).
On June 3rd, the Fourth Annual Bisexual Book Awards announced the following winners:
Bisexual Non-Fiction: Bisexuality in Education: Erasure, Exclusion and the Absence of Intersectionality edited by Maria Pallotta-Chiarolli, Routledge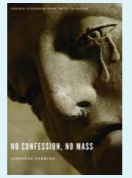 Bisexual Memoir/Biography: Call It Wonder: An Odyssey of Love, Sex, Spirit, and Travel by Kate Evans, Coyote Creek Books
Bisexual Fiction: The Small Backs of Children by Lidia Yuknavitch, Harper Books/Harper Collins
Bisexual Romance: Bound with Honor by Megan Mulry, Riptide Publishing
Bisexual Erotic Fiction: Dead Ringer by Heidi Belleau and Sam Schooler, Riptide Publishing
Bisexual Speculative Fiction: Ariah by B R Sanders, The Zharmae Publishing Press
Bisexual Teen/YA Fiction: Not Otherwise Specified by Hannah Moskowitz, Simon Pulse/Simon & Schuster
Bisexual Poetry: No Confession, No Mass by Jennifer Perrine, University of Nebraska Press
Publisher of the Year: Tie: Less Than Three Press and Macmillan
Bi Writer of the Year: Kate Evans, author of Call It Wonder: An Odyssey of Love, Sex, Spirit, and Travel, Coyote Cree Books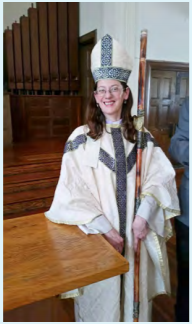 On May 28, BWQ frequent contributor Francisca Maria Bongiorno was consecrated as a Bishop in the Progressive Episcopal Church. (See "A Matter of Gender")
EuroBiReCon (European Bisexual Resource Conference) and EuroBiCon (European Bisexual Conference) were held in Amsterdam 28-31 July. Look for coverage in the next issue of BWQ