By MB Austin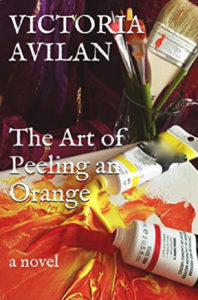 Victoria Avilan is the author of two stand-alone novels, A Small Country About to Vanish and The Art of Peeling an Orange. The first follows two women over the course of forty years, from their shared girlhood in Israel to their very different adulthoods. It reads with the intimacy of a memoir, but weaves the voices of multiple characters together to give a richer perspective on life in Israel from the 1970's to current times. The second follows Carly, a painter knocked out of her own reality by grief, betrayal, and an obsession with the woman for whom her fiancée left her. As she uncovers layers of truth about herself and Anna, we share her sense of peril and exhilaration. The twists never end and when the curtain falls we have two equally fitting endings to choose from.
Both novels share two key elements crucial to me as a reader: beautiful writing that makes me feel like I am in the story, experiencing it through my own senses, and characters who grab me by the hand and pull me along on their journeys. You can find them on Amazon, and by visiting www.vicavilan.com.
MB: As a bi woman married to a woman, with friends all over the map in terms of gender and sexual orientation, I love that your character ensembles reflect my reality in a way that feels organic and authentic. How do you manage that?
VA: The world we all share isn't perfect, but literature should be. I wanted my books to be real life but without the labels. In love and hate gender is irrelevant. When writing, I think only of my characters, who fall in love, suffer heartbreak and do what they want, be it art, music, gardening or mixing potent alcoholic drinks. We like to think we have control, we try to move a certain way in the world and we do have choices. But since we don't know the future, mostly we swim in the dark and bump into random objects, sometimes sharp. We fall in love unexpectedly, desperately. I never expected to fall in love with a woman, yet I've loved my wife for 28 years now. Before her I loved a man with what I thought was the same intimacy, and when it was over the heartbreak was just a heartbreak.
MB: On the question, "Does gender matter?" I interpreted A Small Country's answer as "sometimes." In this story, Rona shares Shelli's attraction, but her adolescent self can't see bucking her own expectations and her peers' to choose Shelli over her boyfriend Eithan. One generation later, her teenage daughter feels torn by a similar triangle, but instead of societal pressure, only worries about making the right choice between two individuals she could love. Does the difference in choices and concerns for these two represent a societal shift, or personality differences, or both?
VA: A societal shift. Gila is roughly at the age her mother had been when peer pressure had made her give up her girl-lover. Twenty years later, the young Gila is naturally subject to peer pressure, but she isn't judged by who she chooses to love. Her peers couldn't care less whether she loves Sophie, Ramon, or both equally.
MB: In contrast, gender feels like a minor factor in The Art of Peeling an Orange. Larger-than-life Anna has a string of lovers, starting with her unforgettable first love, a man, and then women and men, as a serial monogamist. One of the points of suspense is whether she really loves any of them, or only uses them. Are you intentionally working in a point about the quality of love being more important than the genders of the lovers, or am I projecting my own views here?
VA: Does art exist if we can't see it? Does love exist when we die? Yes. Carly and Anna find the answer to that question the hard way. Writing Orange, I imagined "love absolute," the poetic and grand operatic kind that doesn't notice gender. That love is Anna, whose beauty goes beyond the obvious. Anyone who sees her is stupefied and blinded by her physical beauty, unable to see her truth. Then Carly – who has the sensitive eye of an artist – shows up in her life. Carly isn't fooled for a second.
MB: I can see it being hard to fit either of these novels into a tidy category, or virtual shelf, on book sites online. Have you run into any trouble with readers who expect things they won't get, such as a traditional-formula romance, straightonly relationships, lesbian-only relationships, or characters who fit neatly into boxes?
VA: Thanks for noticing my intention. I don't have a publisher behind me, so I write only to please myself. Readers don't know what to expect from either one of my books, and when they find out, they either love or hate it. I've seen complaints about my obsession with sex, or art, or descriptions of color, or about the insanity of either myself and/ or my characters. One of my favorite reviews claimed, "It could have been written without the massive amount of alcohol consumption." It's all good. I read all genres, but when writing I avoid anything I may have read elsewhere. My novels, like my characters, don't have labels or genre and they won't give you a restful reading time, sorry about that….
MB: When I love a book I've just read, I talk it up to my friends, mention it on Facebook, sometimes tweet a link. But what can I do to help people outside my circles find your work?
VA: Keep talking and tweeting – thank you for that. My readers and their word of mouth are my best advertisers. At the moment both my books and the alternative ending for Orange are only available on Amazon. The number of reviews is most effective in generating interest on Amazon. Without honest reviews even an award-winning novel will eventually sink into book oblivion and die. Readers, please review all the books you enjoyed reading.
Writer MB Austin has been bi all of her life, and graced by the love of her wife for half of it. Learn more at www.mbaustin.me.