Review by Amy M. Leibowitz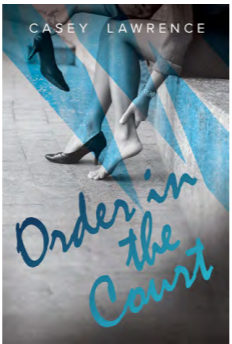 In this new young adult novel, Corey Nguyen watched her three best friends fall victim to a killer, but it's becoming clear her ordeal won't end there. While trying to be a college student, have some kind of social life, and just be normal again, she learns the murderer is demanding a trial. He claims he's innocent and was forced into confessing – which means Corey will have to testify to what she saw. The idea of facing the killer in court worsens Corey's anxiety and forces her to relive the horrifying events of that night. And just when she thinks things can't get worse, she realizes her mother and the prosecuting attorney are probably more than friends. All Corey wants is to put the tragedy behind her, but it's clear the end is not yet in sight.
Like its predecessor (Out of Order), the second book in the Survivors Club series relies on an unusual narrative timeline to tell the continuing story of Corey Ngyuen in the aftermath of the brutal murders of her best friends. I was doubtful a second book could keep pace with the first, but any misgivings I had were quickly banished. It's every bit as good, and the variable timeline works equally well with the new story.
While preparing for and testifying at the trial of her friends' killer as the only witness, Corey is navigating life as a college freshman and staying under the radar to keep from being found out as "murder girl." She's also maintaining friendships with the two boys who had emotional connections to her friends.
Corey is an excellent narrator. She's imperfect, but it's in her flaws that we're able both to relate to her and see how strong she is. Corey makes mistakes, particularly in some of her key relationships. Yet she also learns from them, and that's what makes her worth reading about.
Similar to the first book, there is an underlying relationship arc which is suggested from the beginning and explored through flashbacks. As part of that storyline, she begins dating and it sours on the first attempt. Corey calls her date on some bisexual-antagonistic behavior, but she does it in a hurtful way. What I appreciate here is the balance: Corey has the right to defend herself, but she shows little compassion. Yet afterward, acknowledging her poor reaction becomes a turning point toward her healing.
Once again, this is a well-written piece of LGBTQ+ (emphasis on the B, as Corey's bisexuality is a central theme) literature. I have no idea if Ms. Lawrence plans to write more in the series, but if she does, guaranteed I'll be reading and sharing. This is another five-star book, and I highly recommend it.
Amy M. Leibowitz is an author of LGBTQIA fiction, freelance editor and book blogger falling somewhere on the Geek-Nerd Spectrum. You can follow their commentary on family, faith, reading, and writing at amleibowitz.com.