Review by Katelynn Bishop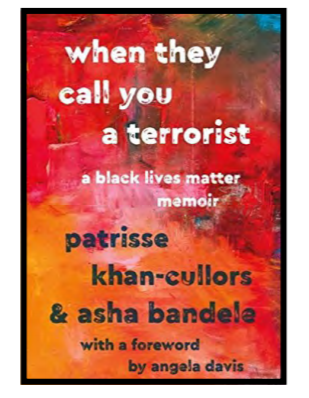 When They Call You a Terrorist: A Black Lives Matter Memoir, written by Patrisse Khan-Cullors and asha bandele, tells, with brutal and beautiful detail, the experiences that led Khan-Cullors to courageously assert that Black Lives Matter.
The book tells the truth about…
…growing up poor and Black at the height of the war on drugs, in a neighborhood terrorized by police and abandoned by wider society.
…daring to imagine a future for one's family and community in the face of the cruelty of a system that treats Black lives as disposable.
…being queer and creating bonds that provide sustenance and the strength to push through the daily realities of oppression.
…both the injustices and hope that led the author to become a community organizer and to eventually co-found, with Alicia Garza and Opal Tometi, Black Lives Matter.
It is wrenching and full of radical love.
The theme of chosen family is threaded through the memoir, and it becomes clear that choosing to create and affirm familial bonds is an act of resistance and evidence of resilience.
Khan-Cullors found out as a teenager that Alton, the man she had always known as her father, was not her biological father. Though Alton knew this information all along, he chose not to share it with her, never wanting her to feel like their bond was anything less than authentic.
Khan-Cullors' family only expanded when she met her biological father, Gabriel, who, along with his family, embraced her into his life. Throughout her life, she has surrounded herself with other chosen family, who have provided support in enduring and resisting systems of oppression. During her brother Monte's incarceration, her friends Rosa and Carla wrote letters to her brother, and when he was released, Carla drove her to pick him up. A community of chosen family formed a support system to care for Monte—who was diagnosed with schizoaffective disorder while in jail—following his release, to ensure that he did not end up back in the clutch of the criminal justice system. Khan-Cullors came out as bi as a teenager (though she refers to her present identity throughout the book as queer). She describes finding herself surprised as she fell in love with Mark Anthony, the man who became her first husband, having never before having been drawn to a heterosexual and cisgender man. Their love transcends many types of boundaries. Khan-Cullors writes movingly about her commitment to non-monogamy, and her efforts to rise above the divisive impacts of jealousy. Though her romantic relationship with Mark Anthony eventually unraveled, he was there to support her as she married a second time.
Alongside the beauty of the chosen family Khan-Cullors describes is the brutality of oppression. She writes about the pain of having multiple family members incarcerated and of family members suffering addiction and dying prematurely due to the stresses wrought by oppression. It was particularly devastating to learn about how incarceration exacerbated her brother's mental illness, and I came away from the book understanding more deeply how the injustices of the inaccessibility of health care combine with the horrors of the criminal justice system.
It was deeply moving to read about how these experiences gave rise to a loving and hopeful movement for change, and to a movement that centers the voices and experiences of Black women, and especially Black women who are queer and/or trans*. This is a movement that persists, despite the fact that simply expressing love for their families and community, simply expressing that Black Lives Matter, leads some to label these activists as terrorists.
Khan-Cullors writes, "My community of friends, this chosen family of mine, loves in a way that sets an example for love. Their love as a triumph, as a breathing and alive testimony to what we mean when we say another world is possible" (99).
As a white person who has moved through the world with many privileges not afforded to Khan-Cullors and her loved ones, this book deepened my understanding and empathy as well as my resolve to contribute to bringing that world into being. In offering these reflections, I hope to encourage others to do the same.
Katelynn Bishop recently earned a Ph.D. in Sociology, with an emphasis in Feminist Studies. Her academic writing focuses on how gender, sexuality, and other social categories impact embodied experience.