By MB Austin
RJ Samuel is the author of five novels, including Heart Stopper, the Vision Painter series, A Place Somewhere, and An Outsider Inside. Each is a page-turner, neither a traditional mystery nor a formula-following thriller, but with enough twists and turns to keep you guessing up to the very end. And each centers on a complex female lead, with a rich set of supporting characters.
MB: An Outsider Inside deals with a number of issues related to identity and the expectations of others based on race/ethnicity and sex/gender. Racism and homophobia are issues you could draw on your own experience for; but you also tackle biphobia as a central concern in this story. Why did you decide to, and how did you go about your research to get the authenticity you sought?
RJ: The story did not start out with biphobia as even an issue, but rather with a character whose gender the reader would never know. As the story changed, in many ways to reflect what was happening in my life, it occurred to me that, despite my own experience and values, I had racist, homophobic, and biphobic stereotypes floating in my bloodstream, injected there by my upbringing and exposure to very many different cultures, each with their own particular brand of obvious and even more hidden hatreds. I realized that I focused on the behaviors in others that affected me personally such as racism and homophobia, but as biphobia did not affect me personally, I was not really aware of it in me or in the lesbian community.
When I began discussing my book and mentioned that the lesbian activist protagonist falls in love with a gay man, I got some negative feedback that shouldn't have surprised me. But it did, as I had missed the depth of biphobia that existed around me. Writing the book changed me, and I hope the story changes others. My aim is that instead of feeling 'called out' the reader will like the character and live through the changes with her and feel differently at the end of the book.
I researched by examining every one of my stereotypes about bisexual people and then I asked a bisexual author friend who writes lesbian romance for a list of hurtful statements she had experienced. She sent me a long list and I incorporated them into Jaya's own biphobia as well as that of the lesbian group with which she worked. Bi readers have commented that they almost could not make it through the first part of the book because of the level of biphobia; but I needed to get that reality across to those who don't have to experience it directly. I deal with racism in the same way in the book. The Prologue is very hard for me to read at author events because of the language and the racist slurs, but it is the reading that always silences the room, and which has the most power because it is based on the truth that most people not of color don't have to see or hear.
I hope that bi readers continue through the book as the reviewer, Tara Scott, did. In her wonderful reviews on The Lesbian Review and Curve magazine she said, "As a bisexual woman married to a man, I've heard some of Jaya's opinions directed at me before, and reading them immediately put me on edge. I'm glad I stuck with the book, however, because Jaya experiences things, particularly in her attractions to and interactions with Chloe, Ishmael, Isabella, and Lana's writings, that challenge her biphobia to its core, and I found it affirming to see her shift in perspective."
MB: Your protagonist Jaya Dillon's biphobia and her determination to keep at least one part of her intersectional identity fitting into a neat box seem inextricably linked. What role do you feel her girlhood outsider-ness as the only child of color in an Irish village played in the fears she has about sexual identity?
RJ: Jaya equates love with belonging and cannot accept love outside of her society's rules if it leads to possible ostracization. She pushes away anyone who doesn't fit into the society-specific rules and judges them – she pushes Chloe away first, and later her attraction for Ishmael. Her loyalty to the group that accepted her is taken to an extreme, to the point of making herself 'invisible,' which in a way is how she survived being the only child of color in the village. Growing up as the only child of color had more of an impact on Jaya than her later realization of her sexuality. Her lesbian activism and identity led her to be more outspoken, to make herself more visible. Her skin color and experiences growing up shaped who she is; but it is her sexuality that gets her accepted into the lesbian community, so she does not equate being biphobic with being racist. How many people do we know who insist, with horror, they are not racist, but can easily justify being biphobic? We have silos of life experiences and prejudices that sometimes do not connect and feed or cleanse each other.
MB: This story is a very specific situation with fictional people, but the behaviors and the emotions feel so real that readers with very different lives still relate to the characters. What do you think are the universal elements they connect with?
RJ: I believe that the strongest human instinct is to 'belong.' Our survival depends on not being left out. I think it happens insidiously with marginalized groups. We find a place where we can finally be accepted and when something disrupts that it scares us to the core that we will not be able to survive alone. Every character in the book is doing the same thing in that they are fighting to remain in their society. I think every reader can relate to the common fear of not belonging in the first place or of losing that belonging within a particular group.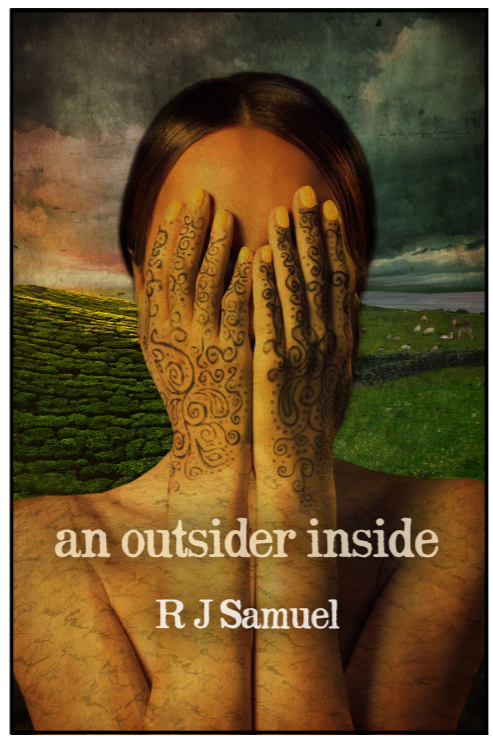 MB: You've been doing theatre improv for a few years now, and recently you're diving into a new adventure related to gender presentation. What can you tell us?
RJ: I started taking improv classes in October 2016 to improve my author readings. They have really helped me to grow in confidence and have given me a sense that I have a right to be here and to express myself. I had been thinking about gender and identity and sexuality, so when I was recently playing with an app that changes your photo to different versions of yourself, I found it interesting that the male version of me really affected me. A lesbian friend joked about it causing her momentary confusion and mentioned that I could be a drag king. That was quite a shocking concept to me (I come from a relatively conservative Indian family). I have no desire to transition but I'm now really enjoying trying out a male presentation both as part of my improv here in Atlanta and also at the GCLS conference where I plan to karaoke in character.
I'm finding it fascinating to see how I feel when presenting as a man, and how others react to me. I've also been deeply touched by how supportive most of my friends have been because I've seen how damaging the lack of support can be to those who are struggling with their gender identity. It makes me realize how lucky I am and that to me is what life is about now, not avoiding, but seeing the wonderful aspects of a challenging situation.
MB Austin's first two Maji Rios thrillers are Strictly Need to Know and Running Off Radar. Learn more at www.mbaustin.me.