By Shayna Macy Warner
(*spoilers ahead for Killing Eve*)
"I've never done this before."
"It's OK—I know what I'm doing."
Out of context, what filmic remembrances might this dialogue conjure? Probably not a woman with her knife to the stomach of the woman laying next to her. But maybe that's just me, and my unimaginative visual associations.
Of course, this snapshot is a perfect example of the tone-switching, reveling-in-its-own-unpredictability roller coaster ride of Phoebe Waller Bridge's Killing Eve. The at-times discombobulatingly funny, at-times knuckle-whitening BBC America espionage miniseries, based on Luke Jennings' Codename Villanelle novels, is an ode to misdirection and gleeful subversions, most prominently for its main premise: the archetypal spy and assassin of the genre are both women.
This was creator Phoebe Waller-Bridge's selling point of the series, and, along with an already lauded lead performance by Sandra Oh as the titular Eve, it stoked enough word-of-mouth interest to fuel a following that increased with every episode's airing and a greenlight for a second season (which has already wrapped production). In a television landscape where creators are being urged, more than ever, to produce multi-layered, mold-breaking portrayals of "strong women," Eve and Villanelle, played by remarkably chameleonic Jodie Comer, present more than just lip service to industry politics. Theirs is a truly twisted relationship, and Killing Eve is a stunning battle of wills and consuming desires in two fascinating, complex, and flawed individuals.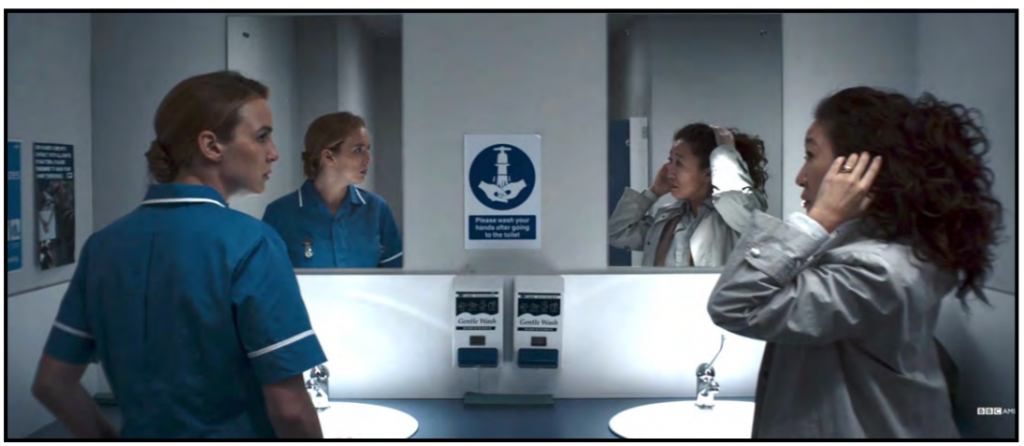 As a work of television, Killing Eve is undeniably entertaining. It juxtaposes expectation in every shape and form it can think to use, including jarring smash cuts from one scene to another, minimal lead-in to suddenly, explosively high-octane scenarios, and strikingly funny dialogue that undercuts those scenarios for moments at a time before the characters re-realize the severity of their situation. This constant upheaval creates an atmosphere in which the at first relatively normal, if stifled, MI5 agent Eve, and the chaotic, inhibitionless assassin Villanelle can thrive (and suffer) as shifting, evolving foils.
Eve and Villanelle's tempestuous, obsessive relationship to one another is written to be troubling. As they learn more about one another, their initial professional goals become increasingly complicated, and the audience faces questions when it comes to judging whether protagonist and antagonist are actually diametrically opposed, whether one can exist within the world of the show without the other, and whether the show would ever like to clarify that issue. Indeed, Eve and Villanelle so often meet each other in the reflection of physical mirrors that it is difficult to argue against such comparative symbolism.
Complicating matters is the brazenly sexual nature with which Eve and Villanelle regard one another. In another happy subversion of the genre, the homoeroticism hinted at in male portrayals of cat-and-mouse is all but blown out of the water by Eve's spiraling obsession, and Villanelle's unabashed, uncoded desire.
Villanelle's bisexuality plays a factor in her origin story, and her attraction to Eve is not merely implied—it is explored in depth, made explicit as a motivation, and exploited as an Achilles heel. And rather than limit her sexual orientation to obsession with Eve, Villanelle picks up lovers of multiple genders throughout the series, without so much as a bat of the eye.
As is the usual qualifier, it would be nice to continue seeing more storylines in which bisexuality is not linked to psychosexuality or psychopathy, but Villanelle's sexuality is only a piece of her as yet incomplete puzzle. Her characterization is a well-wrought, multi-level depiction of a queer woman that hasn't yet been seen, and, despite her murderous tendencies, offers a figure that somehow invokes sympathy and secret cheers.
Eve's own orientation remains somewhat of a muddle, even as she protests, after having described Villanelle in sweeping, poetic imagery to a hapless police sketch artist, that her attraction is purely, obsessively professional. However, as Eve uncovers more pieces of Villanelle's luxurious, violent, and recklessly indulgent world, she begins to fall into the same sensuality that makes Villanelle so committed to her job.
One scene in particular in Episode 5, "I Have A Thing for Bathrooms," finds Eve adorning herself with clothes and perfume sent by Villanelle, against any reasonable judgment. As she zips up a perfectly tailored dress, Eve is clearly enraptured by Villanelle's idea of her body, so much so that for at least the length of the sequence, her attraction overcomes her revulsion toward Villanelle's actions. Season One's final episode delves even further into both Eve and Villanelle's negotiations around each others' bodies, with the same aplomb seen throughout the season, but I'll leave that episode alone for those who have yet to experience it.
All the principal women of the show, when at full capacity, are as fascinating and brazen as their leads. In addition to Eve and Villanelle, Fiona Shaw's duplicitously polite Carolyn Martens, and Kirby Howell-Baptiste's unabashedly clear-headed Elena are free in their speech, judgment, and action, especially when it comes to topics of sex and sexuality. Often, their candor outruns that of their male counterparts, with the exception of Bill (David Haig), whose own sexual fluidity is a welcome addition in a landscape devoid of bi+ male characters.
Killing Eve could be at the top of my year-end television list for the performances of the female cast alone. As a queer female viewer, I might have even been satisfied with representations of queer characters who promise to continue evolving in exciting and idiosyncratic zig-zags. The series' unpretentious, startlingly humorous editing and edge-of-your-seat plot could be awarded in its own right. Luckily, I don't have to choose amongst any of these elements—Killing Eve is the whole package, even if it does sound suspiciously like a ticking time bomb.
Shayna Maci Warner is a GLAAD Rising Star and recent graduate from UCLA in World Arts and Cultures, and Film. She is currently working on her Master's in Cinema Studies at NYU, where she is pursuing the production, preservation, and programming of queer film and television.