By Iris Carufel
I almost didn't make it to the Bi+ Institute at the Creating
Change Conference in Dallas. I had signed up for a different
institute online, and then I almost decided to go to another
institute with my colleague. I was comfortable around them
because they were comfortable in their identity all their life,
and while I know it's not true, I just always felt somehow "less
than." For numerous reasons, I felt like a phony. In a split
second of courage, I entered the Bi+ Institute by myself. Upon
entering, Robyn Ochs' bright smile is the first thing I noticed
as she greeted and welcomed me. What caught my eye next was
a rosette-beaded medallion; I was comforted knowing another
Native person was in the room with me.
We opened with introductions and had to share with the
room why we were at the Bi+ Institute. I was still nervous, so
decided to tell everyone I was just "present." Robyn, however,
introduced herself as a "professional bisexual" which made
me grin from ear to ear. I decided that one day I would be
completely honest about myself and everything in me wanted
to reintroduce myself in this brave space.
We learned a brief but important history of the bi+ community.
I learned about Willie Mae "Big Mama" Thornton and Bessie Smith, famous bi African-American Blues singers; and Steven
Donaldson, an early bi student activist in the 1960s. I was
thrilled to find out that a bi woman named Brenda Howard
was indeed nicknamed the "Mother of Pride." For me it was
thrilling to learn the history of the community as now I feel I
have a foundation to stand upon.
I found it reassuring to know that many others suffer from
outside perspectives that we are somehow "half oppressed," or
have a "gay side" and a "straight side." Throughout this daylong
institute, I felt somehow more whole than I had in months.
When I first came out to my closest friends, I felt accepted.
Some lesbian friends, however, didn't believe me because I had
only dated men previously, and wrote it off as a "girl crush."
One of the people I worked with told me I was just "bi-curious"
and it hurt. But the worst reaction came from my mother, my
main confidante. She had mentioned that someone she knew
was bi and she was grossed out by it. I thought, well, here we
are, I can't fully be myself in front of the woman who carried
me.
Colonization has left its evil root of homophobia within
our Native American communities. I know there have been
awakenings of Two Spirit pride, but somehow it never occurred
to me that I could be more than the straight narrative. I thought
I was crazy for only realizing my own identity as a bi woman at
the age of 26. I found my identity in serving Native youth, but
I was afraid that my community wouldn't accept me.
Post-conference I volunteered at a cultural event on my home
reservation. One of the youth I used to work with came up
to me and asked outright if I was bisexual. I asked if her
question was because she saw my phone (which now has a bi
pride sticker). She nodded, and with the brightest smile she
exclaimed, "I'M PANSEXUAL! But I really love women."
A new journey begins.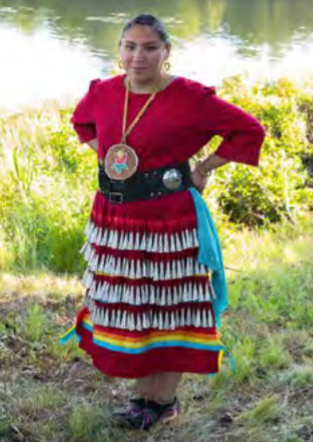 Consider this: If you rarely (or
never) see people like you represented
in print, your voice is especially
important. When you lift your voice,
someone, somewhere will FINALLY
see their own experiences reflected,
perhaps for the first time. See our call for writing.