Jameela Jamil came out recently as queer, but some of her fans
were not happy with how it happened. Best known for her role
on The Good Place, Jamil had been chosen to be a judge on an
upcoming reality TV show focusing on voguing. Many people
started complaining that she didn't belong on the panel because
she is a cisgender, straight woman with no experience in the
community. She then stepped forward and said she is a queer
woman and explained why the producers chose her, not
necessarily as an "expert," but as someone who could bring in
a certain audience to the show and who could relate to her as
more of a novice.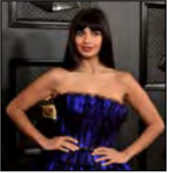 If you are a fan of The Good Place, you already know that Kristen
Bell's character, Eleanor, identified as bisexual, though there
weren't any real relationships with women that were developed.
We know that doesn't make her any less bi, but we really do wish
we'd see some more complex exploration about bi+ identity
on programs rather than having it be a feature of a character
that allows you to make cheap jokes about them. We're not a
punchline.