Jen Yockney
Three things I have done:
• Run more than 400 meets of my local bi, social, and support
group BiPhoria in Manchester, England. It's the UK's oldest group
and I've been there more than 25 years now. Even after all this
time there are new people every month. The difference bi space
can make for attendees, to be in a room with other bi+ people and
not have to defend their identity, is still so powerful. The internet
is fine, but people are just that much more tangible than pixels.
• Published more than 100 editions of the bimonthly print magazine Bi Community News, which has grown from a photocopied
newsletter to a glossy color magazine.
• Given away around 20,000 printed copies of coming out and staying out guide Getting Bi in a Gay/Straight World to help bi
people find themselves and one another.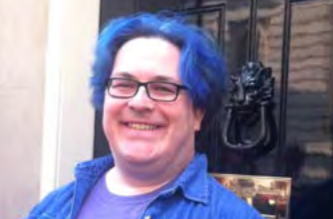 Jan Steckel
I have been out as bi since a week before my 18th birthday, and started working for lesbian and gay rights making flyers for
the Radcliffe Lesbians Association and the Harvard Gay Students Association. In the late nineties, I made a decision to stop
pouring energy into LGBT organizations and only work for bi organizations. The exception is a lesbian-run women-only
reading for which I do the publicity and where I have been out as bisexual for about fifteen years. Listening to some of the
"lesbians" there talk about their love affairs with men and sometimes eventually come out as bisexual is part of my activism.
I have published my prose and poetry about the bi experience in bi periodicals such as Anything That Moves, BiMagazine, Bi
Women Quarterly, Bitopia, and Biscuit, as well as in lesbian and LGBT publications and mainstream periodicals. Since 1998,
I've been an active member of the Bay Area Bisexuals Network, which recently became the Bay Area Bisexuals and Pansexuals
Network. I've marched in the Bi (now Bi/Pan) contingent of San Francisco Pride every year for over two decades, and I've
supported my husband Hew Wolff as host of Berkeley Bi Friendly for the same amount of time. My book The Horizontal
Poet won a Lambda Literary Award for Bisexual Nonfiction, and my book Like Flesh Covers Bone won two Rainbow Awards
in 2019: the one for LGBT Poetry and the one for Best Bisexual Book.
Emily A. Fisher
I joined my local LGBT center, which had been making a great community for gay, lesbian and trans folks with a physical
place to meet in a conservative town. I was the first bi person on their board and started to speak up for the specific needs of
our community. Over my three years as board member, two years as president, we hired three staff and I worked with the board
and our new Executive Director to implement a state grant of 1.4 million dollars. The Center's name was the Gay & Lesbian
Center of Bakersfield. Many times I explained how the bi/pan+ community felt about being left out of the name and how I
personally felt like I wasn't included in my own organization. In the end, we changed the name to the Center for Sexuality &
Gender Diversity and our services for the community have expanded, now including bi/pan, nonbinary, and ace folks.
Along with another bi advocate in the community, I helped to build a seven-week bi/pan+ workshop that explores the issues
we face and have a safe space to share. We cover the complexity of labels, how to react to people's invasive questions and
comments, how to navigate a relationship while bi+, coming out as bi+, representation in media, gender and more. Many
people have told me the workshop changed their lives. The workshops give them that place to be valid, develop the words
and find out they are not alone. We've been running four-a-year since spring 2017.
Emily A. Fisher works in California as a geologist. They are an advocate for the LGBT community through education and community
building as well as being an enthusiastic rock climber.