Amy Luettgen
In the past two years I have organized Bi+ Pride Milwaukee
(BPM). We have gone from having zero presence in the
Milwaukee LGBTQ community to winning a Pride Award at
Milwaukee PrideFest for best LGBTQ organization in 2019.
When I accepted the award for BPM, I gave a short speech
about how the bi community has been present and engaged in activism since Stonewall and that the B in LGBTQ has never been
silent but, far too often, erased. BPM offers support and visibility to bi+ folks in our metro area. We have various activities such
as bi cafe, happy hour, game nights, bi+ crafternoon, a discussion group at our local LGBT center, bi+ hiking and biking groups
and more. We have been a presence in the Milwaukee Pride parade for the past two years and I recently reached out regionally
to invite the Chicago and Madison bi groups to join us at the Parade this year to start increased geographical activism for our
non-monosexual community.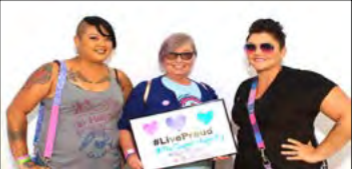 We have grown our local social media following from about 150 when I first started being an admin to over 1000 folks who
follow us on Facebook alone. We have been featured in local media. It has been insanely gratifying to see how folx feel supported
by our activism and visibility. We have so many plans going forward and there is continued enthusiasm as we work to grow our
vibrant, valuable, supportive bi+ community in Milwaukee. Our focus as we start this new decade is to continue on our strong
foundation to build a supportive, sustainable structure for our beautiful and diverse bi+ beings and to work to be included in local
queer events and organizations. As a bi+ person who has been out for well over four decades, but struggled with invisibility and
erasure, it has been amazing to look to the future with so much hope and excitement as we raise our profile locally and regionally.
As a mother of three wonderful people, two of whom are bi+, I am so glad I stretched my comfort zone to be a voice for our
bi+ family. It has been a delight to see so many people come forward to lend a hand and participate in this important endeavor!
Amy is an organizer with the award-winning group, Bi+ Pride Milwaukee.