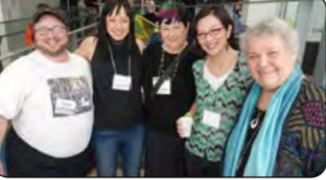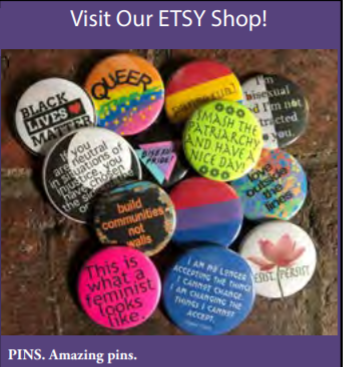 Also, bisexual, pansexual & Philadelphia pride flags
(rainbow flag with black & brown stripes).
And bi, trans, and rainbow earrings.
That's one of the ways we raise funds to cover the
production, printing, and mailing costs of this
publication. There are 49 amazing bi, pan, lgbtq+, antiracist, and other social justice pins on our new ETSY
page. Please take a look. Favorite. Place an order. Then
write a review. Spread the word!
BHAM Highlights Resilience of Bi+ Community
Bisexual Health Awareness Month (#BiHealthMonth), led annually by the Bisexual Resource Center (BRC), raises awareness about the bisexual+ (bi, pansexual, fluid, queer, etc.) community's social, economic, and health disparities; advocates for resources; and inspires actions to improve bi+ people's well-being. Now in its 35th year, the Bisexual Resource Center proudly presents the 7th annual #BiHealthMonth campaign.
The theme of the March 2020 campaign is "Resilience." The bisexual+ community makes up the majority of the LGBTQ community and experiences significantly higher rates of physical, sexual, social, and emotional violence and disparities than gay and straight people, as well as worse physical, mental, and social health. In the face of these
high hurdles, bi+ people have always persisted: shaping history, organizing alongside vulnerable communities, and defying odds. We weather storms under the bi+ umbrella, an encompassing term for anyone attracted to more than one gender, regardless of what labels they use. An umbrella that makes room for everyone's unique identities and experiences is the best tool for increasing our community's wellness.
You can participate by posting online using #BiHealthMonth, hosting community events in your area, donating to the Bisexual
Resource Center, and more. Visit BiHealthMonth.org and email us at bham@biresource.org.