By Sharla "Skyspirit" Shotwell
While there are many groups which have rules against allowing
anyone not "naturally-born female" into events such as lesbian
bars, music festivals, rituals, or sacred rites, I have made progress
in changing at least a few minds in this regard.
In one case, a friend of my late husband's—and now a good
friend of mine—had posted an event notice for a ritual that
indicated that only natural-born women were welcome. I was
dismayed and distraught and, when I first approached her, her
response was that this was her event and she could welcome or
deny anyone she chose. I knew at that moment we would be
having a number of uncomfortable conversations in the future,
especially since I refused to attend until all women would be
allowed to do so.
On my second attempt to get through to her and share my
feelings on the importance of allowing all women into events,
she still wouldn't budge. However, once I explained to her that it
was my understanding that most transgender women, specifically
those who had transitioned from male to female, had actually
identified as women from an early age regardless of gender assignment
and even before transition, her mood began to change.
During our next conversation, I continued to make the case
for inclusion. Soon thereafter, she agreed to allow all women
to attend future rituals and other events which she organizes
in Northern California, a change which I believe will benefit
all of us.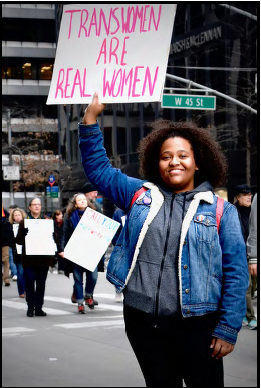 Sharla "Skyspirit" Shotwell was quite active with BiNet USA,
BBWN, the Bisexual Resource Center, the Boston Pride Committee,
and BiPol in the mid-1980s to early 1990s under the name Sharla
Clos. In 1990, she founded the Dallas Bi-Net Group, the first ever
bisexual support group in Texas.