By Marya T. Mtshali (with help from brunch participants)
At the April 19th Bi+ Women's Digital Brunch, I posed a question: What are the positive aspects or gifts of bi+ sexuality?
At first, this question seemed to stump some of us. So often,
by those of us in our community and by people outside of it,
non-binary sexual orientations are often cast in a negative light.
After I came out as an adult, one of the first things I did—like
many millennials—is look to the Internet for information.
More specifically, I wanted to read the words of bi+ people
about their experiences, and what I found was enough to put
some people back into the closet. Pages of my screen would
be filled primarily with discussions about biphobia, bi-erasure,
and lack of acceptance. There's no doubt that those issues are
a part of the bi+ experience—but it is so much more than
that as well. During our meeting, a lovely discussion unfurled
where we began to highlight the gifts of bi+ sexuality, and I
have shared some of them below:
All are welcome: In our experience, the bi+ community tends
to be one of the most inclusive and accepting communities
we've found when it comes to sexual orientation and identity.
Interesting people: One person remarked on "… how cool,
interesting, and intelligent everyone in the community is. We
are active and engaged in the world in many meaningful ways."
Understanding sexual fluidity: Having a non-binary sexual
orientation allows you to have an embodied understanding of
the realities of the fluidity of human sexuality in a way that our
society often finds confusing or attempts to render invisible.
Furthermore, this empowers us to critique and reject other
aspects of our society's rigid, binary thinking.
Wider connection: We share the gift of being able to form romantic and/or sexual connections with a wide range of people
and, therefore, potentially have a deeper connection to the
breadth and depth of humanity.
Experience and perspective: For those of us who have had (or
have) partners of different genders, our experience provides us
with a unique opportunity to observe cultural dynamics and
relationship patterns.
Being part of a world-wide community. We are able to travel
(remember travel?) and possibly make connections with people
around the world via a local organization. This world-wide
community is also available on the internet.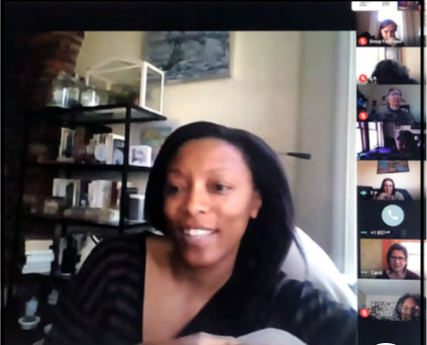 Marya Mtshali is a lecturer at Harvard University and spends
her free time reading, tending to her indoor garden, cooking,
traveling (12 countries and counting), and spending time with her lovely dog, Tesla. A South Carolina-native with South African and African-American roots, she currently resides in Boston, MA.