By Dani Feyn
Understanding my bisexuality has meant living in the spaces
in which I'm most uncomfortable: the grey areas. All my life,
I've felt different: for most of my life, I tried to overcome any
difference by fitting into what I believed would be an acceptable
category. Each time I attempted to connect with someone, it
was through the veil of what I thought they might want me to
be. Now I know that that wasn't true connection, although at
the time, it felt safe.
The grey areas scare me. If I don't carefully classify myself, what
if it turns out that the people I care about think I'm too much,
or not enough? Too queer; not queer enough? Too smart; not
smart enough? Too creative; not creative enough? Isn't it better, I thought for years, that the person I show to my friends and family is a persona deliberately crafted for them? I chose to show the parts of myself I thought people could love and hid the rest away.
That way of life could only be sustained for so long. I felt lonely.
I felt misunderstood. Well, naturally: I wasn't giving enough of
myself to anyone to be understood. I became trapped between
the black and white categories I had assigned to myself, and
fluctuated between wanting to hide and wanting to be known.
There are a number of reasons that hiding felt safer—not just
shame about my bisexual identity, but also trauma from my
childhood and overwhelming feelings of anxiety and depression.
More often than not, I chose hiding. I withdrew. I forgot what
it was like to connect altogether.
Overcoming my need to hide took years, medication, and therapists who urged me to dip my toe in the waters of what made me
the most uncomfortable. Progress is not linear—I think anyone
who has struggled knows that. But over time, I was able to find
small ways to connect with people honestly. I went out to lunch
with co-workers. I played songs I had written for the person who
is now my partner. I started to tell certain friends more about
myself, or at least tried to. And over time, with practice, these
connections became less scary. With the help of a therapist, I
was able to start telling some people about my bisexual identity.
After I discovered that this part of myself could be met with love
and encouragement, I felt more comfortable sharing other parts
that didn't fit neatly into categories, like my gender expression.
By slowly opening up to myself and others, I started to feel
accepted, which is what I had wanted, desperately, all along.
Sharing certain parts of myself with others still feels daring. I'm
out to only a handful of people, and some of the things in my
life that are the most precious to me—writing, and music—are
cards I keep close to my chest. But the age of coronavirus has
given me the chance to work even more at connecting with people. Recently, I stayed up all night watching videos of concerts
with my co-worker, something I never would have done before
social distancing. I let my partner and my friend read a writing
project I've been working on for years. I've started meditating, which I hope will help me to feel more comfortable in my body
and more open to connection. And when my anxiety prompts
me to clean obsessively, to do everything perfectly, to hide away
if I make a mistake, I try to remember the lesson I've learned
over and over: the gray areas are who I am. I don't want to be
afraid of them anymore.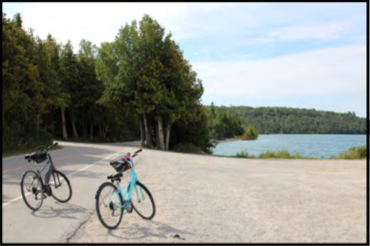 Dani Feyn lives in Queens, NY, with her partner and many books.
By day, she works in fundraising for a national environmental
conservation non-profit; by night she writes, practices yoga, and
listens to many podcasts.