By Annie B.
I had the perfect summer planned. I'm from a small, conservative
town in Maryland and go to Emerson College. After applying to
over fifty jobs, I had found a way to stay in Boston this summer
with my girlfriend and two of my best friends. Then a pandemic
happened, so I'm back in the Mid-Atlantic with my mom and
grandparents, feeling more alone than I have in a while.
Like many bisexual teenagers, high school was hard for me. I
mean really hard. When I arrived in my dorm room overlooking
the Boston Common, everything changed. I was accepted, made
lasting friendships, studied subjects I cared about, and fell in
love for the first time. To be abruptly taken away from all of that
and thrust back into the hick suburb that has been the source
of my traumas has been jarring, to say the least.
Emerson is known for its LGBTQ+ inclusivity. Suburban Maryland is not. So, how do I find a community of support during this time? In my opinion, while the situation is unprecedented, the solutions are not. In hard times, you rely on those you love and those who love you. I reach out to the people in my life that I look forward to seeing again, as well as engaging with people I haven't had the time to talk to in a while. I am especially making
sure to communicate with the queer people in my life, if for
nothing more than maintaining our sanity.
Lately, I've reconnected with people at home who are kind and
loving. When I went to college, I was so determined to get out
of suburbia that I intentionally cut myself off from my roots.
This quarantine has forced me to confront where I came from.
By doing so, I am becoming a more self-aware and appreciative
person.
Furthermore, I also have taken the time to invest in my future. I applied to fifty more jobs. Yes, it was as gruesome as it sounds. But I am someone who loves control, and this gave me a semblance of power in a powerless situation. Luckily, I found a remote internship for this summer with the It Gets Better Project. By working, I am connecting with the LGBTQ+ community in a way that gives me a façade of normalcy.
While of course video chat is helpful for bonding with others, it is the deeper ability to share emotions with your loved ones that is crucial, even if it is more than you would usually share. Now is the time. So, yes, we unite with others. However, I am also using this summer to connect with myself,
cheesy as it may sound. When I (hopefully) return to Boston in
the fall, I will have a clear understanding of who has my back
and how to communicate well with those people. Therefore, I
guess my advice is this: if you are in a situation that is bringing
up trauma or mental strain, focus on strengthening only the
relationships for which you feel inclined to do so. But above
all, make sure that one of those is with yourself.
I think the hardest thing about this coronavirus is that no one
knows when it will end. I am trying to focus on the aspects of my
life that I have control over, and home is one of them. Of course,
now we must learn to have serendipity over letting control slip
away in other aspects, which is just as challenging as it sounds.
I do believe that with dedication it is doable.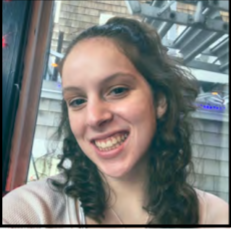 Annie is nineteen years old and is currently studying journalism, social justice, and comedy.