By MB Austin
The Storm Fronts series explores the perilous lives, heartpounding adventures, and complicated love story of two
women in a future world complete with space travel, Talents
(empaths, precognition, telekinesis, etc.), and mercenaries
seeking to create super-soldiers. Vick Corren provides a living
test case, becoming VC1 after an accident requires various
parts of her body, including sixty-three percent of her brain, be
replaced with sophisticated biotech. Only empath Kelly, hired
by the corporation to help VC1 regulate her emotions, treats
Vick as a human equal, a friend and colleague. Anything more
endangers them both.
Q&A with author Elle E. Ire
Q: I love your tag line, "Deadly Women, Dangerous Romance."
It certainly fits the Storm Fronts series! How did you come up
with it? Does it reflect all your work as well?
A: I'm so glad you like it! Honestly, it just came to me. I
had noticed a few other authors with tag lines and I liked
the concept. This one seemed to encompass pretty much everything that I write; so yes, it does reflect all of my work. I always feature powerful female characters who are capable of killing to survive, even if they're reluctant to do so. This trait makes having any kind of romance with them a very dangerous prospect indeed. And it creates lots of action, tension, and angst between the romantic leads, all of which I love to write. I love
protagonists who are heroes with a dark side, who question
their morals and ethics, who do what must be done but suffer
from having to do it. And exploring the women who can love
them despite all this also fascinates me. Their relationships are
never easy and yet they keep fighting for those relationships;
I think that's what makes the pairings work to hold a reader's
interest.
Q: Vick's experience of losing memories, her sense of self, and
the ability to regulate emotion so accurately reflects the visceral
experience of many trauma survivors, particularly those with
brain injuries. How did you achieve such verisimilitude?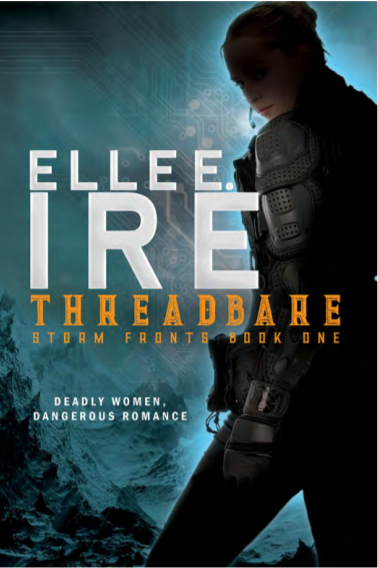 A: The quick answer is that I love this type of character—the
tormented soul, the one who has been dropped into hell and
fought her way back but doesn't quite know if she made it out.
I am drawn to books, TV series, and films that feature this
character type, so I have consumed tons of media featuring
these sorts of survivors and I tend to soak up the details and
then incorporate them in my own way with my own characters.
The longer answer is that I began writing the character of Vick
Corren when I was still in college. To give you some perspective,
I am fifty years old, so it has been a long time since I first
imagined her. She has been through multiple incarnations,
been part of fanfiction that no one will ever see, had an entire
novel written about her that was eventually scrapped. I have
worked, reworked, and worked again with this one character
for about thirty years. In my head, I have put her through every
type of trauma and disaster, then worked through her actions,
reactions, and even dialogue to play with how she would view
herself and how she would react to each scenario. When I
wrote the Storm Fronts series, I had thirty years of material
to draw from. Vick is, without a doubt, the most complicated
and complex character I have ever worked with. I think having
amassed so much background knowledge about her, most of
which never makes it into a book, adds to the realism of her
overall persona in the series.
Q: My favorite science fiction makes me examine what it
means to be human. Vick struggles to share Kelly's faith that
she is still human, while being treated as if she is a machine
by others. Although her gender and sexuality are not an issue
in this future society, her experience of being othered and her
heroic effort to form and hold onto a healthy sense of self feels so relevant to this real world, in many times and cultures. Did
you plan for the story to resonate with readers who are queer,
non-binary, or trans, or perhaps have an intersectional identity
that their families/peers/strangers don't readily understand and
accept?
A: Well, to begin with, Vick Corren was originally straight.
Remember that novel I first wrote about her [above]? Yeah, she
was entirely straight and had no love interests at all. This was,
in no small part, due to the fact that I had not come to terms
with my own sexuality (I am bisexual), and therefore could
not bring myself to make Vick bisexual as well even though
my internal author voice was telling me that Vick was not only
bisexual but needed a female romantic interest to help balance
her emotionally. Her potential romantic interests came out in
my head when I was imagining her, but they never made it to
the page.
When that first novel failed to sell, and Vick continued to
invade my thoughts on a regular basis, I finally decided she
needed to be the person she was truly meant to be. By that
point, I had already written and sold one novel featuring a
bisexual protagonist (Vicious Circle in 2015), and I had gotten
a lot more comfortable with myself, so I wrote Threadbare.
I did not start out to make Vick's search for her own humanity
and sense of self a metaphor for those being "othered" (to use
your term) in today's world, but I realized after writing the first
few chapters that this was where my subconscious mind had
taken me. Once I figured that out, then I worked to expand
and extend that metaphor wherever I saw an opportunity to do
so in the book. It became intentional very quickly; I did hope
that readers who felt "othered" themselves would connect to
her struggles.
Q: Now that I've read books one (Threadbare) and two
(Patchwork—just released in April), I'm suffering some
withdrawal having to wait for the conclusion. And I can't tell
anyone too many specifics, because spoilers would ruin the
great twists and turns. Where can I find people to geek out
about the books with? I have so many moments to relive, and
that incredible cliffhanger to speculate about….
A: Well, my Elle E. Ire Facebook page might be a good place
to find others who have finished at least Threadbare. And I'm
always happy to talk to readers about my books on Facebook
and Twitter. I especially love hearing which scenes really
worked for readers and why, or whether they are primarily
Team Vick or Team Kelly. And yeah, that cliffhanger at the end
of Patchwork is a doozy. I thought one of my editors was going
to strangle me for that one.
MB Austin is the creator of the Maji Rios series (Badass women in
love and danger. Because saving the world is sexy.) Find out more
at www.mbaustin.me.