By Robyn Ochs
It took me an eternity—three and a half years, to be precise—
to come out at work. I moved to Boston at age 23 and a
few months later found work at a university (there are lots
of universities in Boston!), where I ended up working for 26
years.
In my first position, I didn't mention that I had a girlfriend. I
didn't tell anyone I was bi. I was afraid of how my co-workers
might respond.
My next job was at a residential research center, I'd heard a rumor that the
boss was uncomfortable that an unmarried couple was living together in one of our apartments—a man-woman kind of couple. I concluded it
would not be safe to come out as bi at this job.
Upon starting job number three, a promotion, I decided I could be silent no longer. It was time to come out at work.
I waited an entire year.
Why did I wait? I was afraid people would judge me. I was afraid people would perceive me as less professional. I was afraid my sexuality would distract people from my competence. I wanted my co-workers to get a firm sense of me as a professional before the big reveal. It was a very long
year. Then I finally came out.
A few of my co-workers made strange comments: "How does your partner feel about sharing you with other people?" (I never said that.) "Why do you need to tell me this? Sex has no place in the workplace." (Huh? I wasn't talking about sex. I was telling you how I identify.) Straight people talk about their partners and relationships all the time. I just wanted to
be able to talk about mine, too.
It was a relief to come out. I felt myself breathing a bit more deeply. I was no longer carrying the heavy weight of a secret.
Fast forward almost to the present: I couldn't possibly be more
out. I am, after all, an educator. And bisexuality is my subject.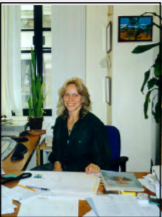 Robyn Ochs still lives in Boston. She is Editor of this
publication.