By Ally Muterspaw
My coming out story doesn't fit the coming out arc that many
films, novels, and other media portray to their audiences. I
never had that "oh!" moment, nor do I have specific childhood
memories where I recognized my queerness. I never made an
announcement to friends or loved ones about my identity. This
isn't from shame or rejection, although those feelings are valid
and important to acknowledge. I've always been a private person
and, overall, am private about my personal life at work.
I work in a suburban public library, where the growing area's
economics and politics mostly cater to the nuclear family structure. This attitude is present in my workplace, and usually my
femme-presenting self is labeled as straight. When co-workers
refer to my future family, they envision me as having children
with a male partner. This presumption is rooted in bi erasure and
assumes a narrow definition of family, omitting the reality that
for many queer people, our concepts of family don't necessarily
rely on the mom and dad paradigm, but form through a community of people we grow through love and support. Learning
how to navigate these conversations is a challenge, because how
do I explain to someone that these presumptions about who my
partner may be are not necessarily wrong, but that what they
assume about the life I imagine for myself is toxic.
I know of only two other openly LGBTQ+ people who work
in my library. I am very grateful to have a close queer friend at
work; honestly, we all need a queer friend to commiserate with
about our jobs. I find support through sharing similar experiences with other queer people and trusted allies when I feel distress
at work. Having a few select people I talk to is how I usually
cope with microaggressions at work, since we currently don't
have designated resources for LGBTQ+ health or community.
Unless my workplace hired more LGTBQ+ competent members
to its leadership team, I wouldn't feel comfortable with my work
facilitating an employee resource group. Of course, I hope this
dynamic will change, and that queer inclusivity will progress
after I am gone from the library.
This isn't to say that I'm not out at work, I like to say that I let
some people "in" to my life. I show pride for my community
by advocating for an equitable workplace. Particularly focusing
on LGBTQ+ people oppressed through racism, transphobia,
and other oppressions, pride is showing up to fight for every
member of our community. I actively make an effort to push for
equity in organizational policy, workplace culture, and patron
services. Facilitating difficult but necessary conversations about
oppression and privilege with my co-workers is critical in creating
a conscientious workplace.
I wouldn't go so far as to say that my workplace is LGBTQ+
incompetent, but it's definitely not an affirming place. Since I
have assurances through community care outside of work, I find
that advocating for patrons to feel safe in our space is the best
way to show my pride at work. The core values of my job are
accessibility, and the right to feel represented in the media we
consume. I uplift stories about underrepresented community
members for patrons who seek visibility from a space where
they should feel valued.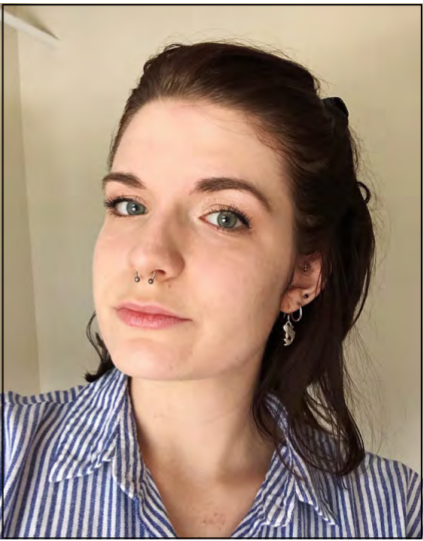 Ally Muterspaw, she/her, is a public librarian living with her roommate and their cats in Indianapolis. She spends her free time running, reading, and curating her cat's Instagram. She is a member of Queery, a radical queer book club run through Irvington Vinyl and Books in Indianapolis.