By Lila Hartelius
As an English language teacher who also happens to be bisexual,
I'm not currently out at work; yet my understandings of biphobic and monosexist1 oppression have helped me put words to
elements that feel oppressive to me in my experience not only
of not being out at work but also of being an English teacher. I
feel that it's important to connect these two experiences, so in
this essay I'll first focus on my outness at work and then connect that experience to my observations about English language
teaching (ELT).
Biphobic/monosexist oppression and outness at work
It saddens me that—even in France, a country that prohibits
workplace discrimination based on sexual orientation—I allow
my interactions with colleagues to exclude potential opportunities to break my isolation as a bi person and connect with other
LGBTQ+ people who might feel the same. Staying in the closet
at work means immersing myself in persistent, often subconscious, anxiety about how colleagues might react if I came out.
Yet I wonder whether being out at work would improve my personal sense of mental/emotional well-being while there. Biphobic
and monosexist microaggressions, internalized biphobia, and
bisexual erasure can work together in toxic ways. Past experiences
with encountering such microaggressions have helped me understand how difficult it can be to recognize, challenge, and be
heard around these insidious, often unconscious manifestations
of biphobia/monosexism.
Before I knew what microaggressions were, being subjected to
what I now recognize as biphobic/monosexist microaggressions
often left me feeling frustrated or hurt yet simultaneously confused and ashamed, fearing I was overreacting.
Internalized biphobia and internalized monosexism make it
difficult for me to confront these microaggressions without
worrying I'm being oversensitive—even when I realize these
forms of internalized oppression feed into these apprehensions.
And bi-erasure helps keep nonmonosexuality and the associated
oppression invisible, which seems to contribute to the bewildered/belittling reactions bi+ people receive when challenging
microaggressions.
Often, such microaggressions I've experienced have been so
subtle, and systemic bi-erasure so societally embedded, that my
attempts to explain—to those involved or from whom I might
seek emotional support afterwards—how what occurred was
a microaggression have been futile, stressful, and emotionally
taxing. Self-care can unfortunately sometimes mean picking
my battles.
Indeed, bi-erasure makes it so that, despite growing literature
that validates the challenges we face, as nonmonosexual people
we often find ourselves being asked to explain what nonmonosexuality is—sometimes even just to be taken seriously when challenging a microaggression—all while navigating the potential
for ensuing microaggressions. Furthermore, directing someone
to educational resources does not guarantee that person won't
commit microaggressions toward us again. Learning to apply to
everyday interactions what one has read/watched/listened to can
be a long, complex process. Nonetheless, learning a colleague is
bisexual might be the one thing that prompts someone to educate themself about nonmonosexuality, and being out at work
might help me contribute to more people taking this first step.
Understanding biphobia and monosexism, in all their manifestations, as public health and safety issues might clarify why
it's important for people to actively contribute to promoting
bi-visibility by educating themselves—and not just for the
sake of nonmonosexuals. For example, Shiri Eisner argued that
"biphobia against women is not only the concern of bisexual
women, but of all women regardless of their sexual identity"
(182). Eisner asserted that, underlying harassment of both
lesbians and bisexual women, is the biphobic notion that they
are performing same-gender desire for male pleasure. Eisner
also remarked that heterosexual women often are "subject to
pressure by straight men to perform bisexuality […] for their
pleasure" (182).
While raising awareness about biphobia should be used to help
end violence against all women, the tragic realities of higher
rates of violence committed against bisexual women as compared to lesbian and heterosexual women respectively should
not be ignored. Moreover, recognizing how biphobia also affects
monosexual people shouldn't be used as a sole justifier of the
importance of promoting awareness about biphobia.
Connecting oppression-related discourse to ELT
Reflecting on my experiences of outness at work got me thinking critically about privilege and oppression regarding not only
sexual orientation but also ELT. While my language teaching
style tends toward valuing comprehensibility over an accuracy-at-all-costs approach, for example, I am confronted with
ethical dilemmas when it comes to standardized English language
tests that in some cases are a requirement for English language
learners. When working in test-prep capacities with learners, I
of course endeavor to increase my teaching's focus on accuracy.
Yet I can't help feeling like some of these tests seem to reinforce
the idea that there is a single standard for what counts as "correct English," a standard that is invisible in a way similar to how
assumptions of monosexuality work as an unquestioned norm.
Jim Scrivener (118-119), a teacher and trainer in the ELT field,
discussed a model that the late linguist Braj Kachru proposed for
grouping the different varieties of English that exist (see fig. 1). In
Scrivener's words, "Kachru suggested that the models of correct
language are mainly set by the inner circle but that the outer
circle is starting to create its own norms" (119). Standardized
English language tests which I'm aware of are based on inner-circle models of correct language. While this may be practical for
learners who will be using English primarily in countries/regions/
discourses where inner-circle varieties of English are dominant,
I wonder how helpful such tests may be in evaluating learners'
competency in navigating real-life communication in countries/
regions/discourses where outer-/expanding-circle varieties of
English may be more common.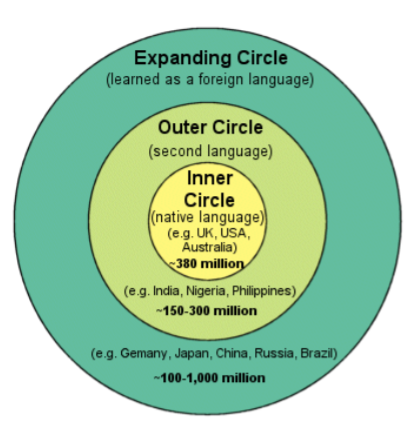 This raises a question for me: when English is taught as a foreign language, should the varieties of English taught default to
exclusively inner-circle ones? While I would argue no, the ELT
textbooks I've encountered are based on inner-circle varieties
of English. This may not be every English language teacher's
experience, but I cannot imagine I'm the only one who's had
this experience. Why does it seem that so many English language
teachers have been exposed primarily to textbooks that promote this single standard and that seem to erase and delegitimize other
forms of English?
I think it's important to ask questions such as: Who or what is
contributing to the notion that there is one "correct" group of
varieties of English? Who or what is expected to benefit from
this notion? Who or what is actually benefiting from it (and at
the expense of whom or what)? To what extent is this notion
present in the dominant discourse of the ELT field? Eisner
described dominant discourse as "a discourse created by those
in power and which dominates social understandings about a
given topic" (17). This brings up some other questions. Who
is creating the dominant discourse in the ELT field? Who is
included in this discourse's creation, and who is excluded from
it? Who or what is served by such inclusions/exclusions, and at
the expense of whom or what?
Just as monosexism and bi-erasure mean I rarely hear coworkers
mention bisexuality, a single-standard notion of correct English
means I don't often happen upon teaching materials that address
non-inner-circle varieties of English unless I'm actively looking
for such materials. And just as biphobia works to delegitimize
bisexuality as a sexual orientation, standardized English language
tests that privilege inner-circle forms of English promote the
idea that any diversion from those forms is automatically an
error rather than possibly being a norm specific to an outer-/
expanding-circle variety of English.
---
Though it could be challenging, coming out at work might give
me opportunities to promote bi-visibility and help me feel less
alone. Even just reflecting on the question of outness at work
has already helped me name elements underneath aspects of
English teaching that have felt oppressive to me. This has helped
me reflect on how, in my teaching practice, I might be able to
invite or encourage dialogue around questions of normativity
and diversity concerning English, how it's used, and how it's
taught. My hope is that such dialogue might help both my
workplace and the ELT field to become more inclusive of diverse
identities, experiences, and ways of communicating.
Works Cited
Eisner, Shiri. Bi: Notes for a Bisexual Revolution. Berkeley, Seal,
2013.
Scrivener, Jim. Learning Teaching: The Essential Guide to English
Language Teaching, 3rd edition. Oxford, Macmillan, 2011.
Lila Hartelius, BA (lilahartelius.wordpress.com) is a bilingual
(English/French), published writer who has served as editorial
assistant for the International Journal of Transpersonal Psychology. Her work has been published in Bi Women Quarterly, Weird Sisters West, and Tendrel (Naropa University's diversity).