By Alison Miller
I watch a sail-shaped shadow
on your neck and imagine
it curving towards me.
Your eyes are peacock feathers
shimmering gold. I want to
ask you if we'll touch again.
I slid my hands into your hair
so easily once, my fingers
dolphins frolicking in your curls.
You are your laugh, melodic
and bold. You are your
lips when they open for me.
You are the person in the
pictures taken when you claim
we were making mistakes.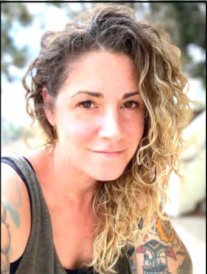 Alison Miller is a writer and sex
educator whose poetry has been
published in various literary magazines.
The owner of sex positive adult
boutiques in Richmond, Virginia, she
currently resides in San Diego.