By Neen Chapman
Love Sweet Love. Love is a Battlefield. Crazy in Love. Love's not Time's fool. My noon, my midnight, my talk, my song. How many loved your moments of glad grace. Variations on the word love. Just The Way You Are. Baby Love. All Of Me. Justify My Love. And The Power Of Love….
Song titles, lyrics, and lines from poems all about Love… and how true they all are. Wondrous Love in every incarnation has a wildness and a beauty. Humans have been telling tales about love, writing about it, singing it, painting it, whispering it, analyzing it, second guessing it, defining it, and professing it for millennia. Age old Love.
Finding love for a majority of humans is at their core of connection. Of course, love takes many forms, and no two relationships are ever going to be the same. Our uniqueness and our life's experience make sure of that.
I have been the most fortunate human as I have had deep, powerful and passionate love relationships. They have set the bar for 30 years, and that is a high bar. Confession: I've been solo and not in a love relationship for over four years now. Oh, I've had fleeting weeks of passion and being on the cusp of love and a relationship, but, and it's a significant but, on both occasions the other human walked away. Sadness, loss, brief grief, questions, self-doubt, the lot passed through my mind on both occasions. Tough stuff to experience, but every time it happens, I ask myself is it worth it, and I always answer (after a period of healing and time): Yes! It is absolutely worth it!
As for Finding Love, for me, this one has been all over the shop. I've met beautiful people through work, through friends, through interests, through nights out, through shopping adventures, through travel, through the net, through parties, through grief counselling, through volunteering, through vet appointments and surprisingly, through visits to the hospital. Yes, even while being treated in hospital for an avocado toast injury, I met a beautiful nurse, who, at 2 a.m. and post my being stitched up (well, super glued in fact), gave me her number and asked me on a date.
You might say, oh, but you're solo right now, what happened to all of these dates and serendipitous meetings? A couple of life things happened in the last two years to remind me that I needed to do some more work on me and not chase love and sex. But, oh my, I miss both.
What to do about meeting a wonderful human? Know yourself. My first thought and action, an absolute must, is to check in with myself and see where I am at. How is my brain health, my thinking health, my self-health? I have DID (Dissociative Identity Disorder), and that makes my life pretty complicated and never dull.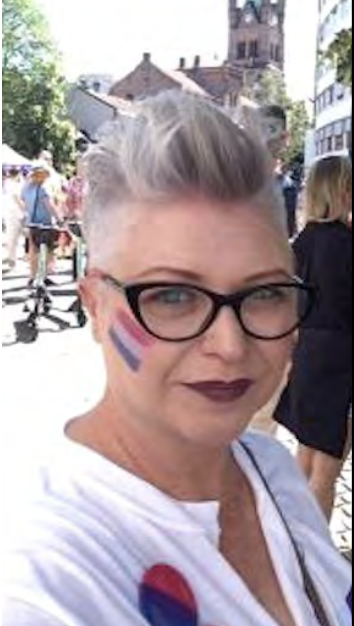 The reality of living with a mental health diagnosis is off-the-scales selfcare and being brutally aware
that any human who comes into my life, to share a life, knows what DID is, understands that it does
not mean Sybil or The United States of Tara or any other misleading and outright misrepresentation of DID in media, film, books, television, and even medical journals. After many years of therapy, hard work, and selfcare, I am pretty damn good most of the time and only occasionally do I still have bad
days, but those days are a part of life. Just like every other human being on the planet.
Not exactly spontaneous is it… talk about a buzz kill (definitely and necessary), but, once I've done the groundwork—and if the wonderful human is still around—I get to be myself with them. Finding out who they are, how their brain is, falling in love, having company, watching movies, exploring the world, making art, dancing together, listening to music, caring, and having outstanding, amazing sex.
Sounds like a lot of work and yes, it is, but as I said earlier, it's absolutely worth it.
How to find love? The one way I rule out these days is anything online. Internet dating does not work for this bi+ pan, non-binary, DID human. There's something two-dimensional about reducing connection to a few photos and a limited character bio. Tick boxes of interests and kinks, odd questionnaires that try to distill my humanity and my illuminating and riveting personality down to a match matrix.
I know it works for millions of humans across the globe. There are so many new apps. It feels like there's a new one every week. Millions of success stories. I have friends who have met their partners on the net and are now married. This medium works for them. Mind, there still isn't any halfway or even quarter way decent internet dating app for bisexuals and pansexuals in Australia. This is a major turnoff to finding Love on the net.
Internet dating is possibly good for hook ups and sex (when it's safe and vetted) and is certainly used for exactly that by a huge swath of the global population. Good for them if it works. I have used the internet for amazing sex and sexual relationships over the years, and they can absolutely service the libido and the urge, but other than that, the depth and understanding I seek in a relationship means the Internet is not for me. Hook ups aren't on my radar these days. Boo hoo. My libido hasn't reduced but the interconnectedness of my mind and body for sexual pleasure must have friendship, relationship, and connection with another beautiful human on a similar path. It's an annoying epiphany at times but a supremely healthy one.
So no to the Internet dating for me, where to then? Let's just set 2020 aside for serendipitous meetings of amazing humans. Though I have met a number of beautiful people via zoom (Ha! What did I just say about online anything…), moving right along. I am putting my energy into real life. Meeting beautiful bi+ pan humans through our incredible community networks. When allowed and safe, going to art shows, music events, writing
classes, LGBTIQ Conferences, actual real-life conversations and new places for coffee, cakes and drinks. Fingers crossed for the future.
There is, however, another side to dating in the bi+ pan community. Being a leader in the community here in Sydney and as part of a brilliant new collective, I am acutely aware of not taking any kind of advantage of anyone. Makes it a little tough sometimes to take chances and understand flirting and mutual feelings (when is that ever easy) from the lines and the trust placed in me being a leader. I'm still working this one out. I'll let you know how it goes.
Where does this leave us with all of those love songs, lyrics, poems, stories, and paintings. They are divine and one of the most precious parts of being human. I believe in them all. I have danced to, sung, painted, talked of, written all about love since I was about eight years old. Why change now just because I'm 50 and life, society, and the world are going a tad mad.
Actually, thinking about it, what better time to go into the world. Humans are more real at the moment than I have ever seen them be. Kinder, more compassionate, more truthful, and 100% more interested in the connection, depth, beauty, and pure wildness of Finding Love.
Neen Chapman is Bi+ Pan and out in all aspects of life and work, recently 50 (how did that happen), silver haired, and loving being the Vice President of Sydney Bi+ Network, founder of BOLDER, mental health awareness speaker, activist and speaker, maid to lovely kitty cats, and deeply into history, reading, geology, documentaries, art, painting, poetry, music, equality, Bi+ activism, politics, and kink.