By Tiggy Upland
"In 2000, I went on a date to a Nader rally with someone
I met on PlanetOut.com. As we waited to get in, she informed me that she almost refused to date me because my
profile said I liked Sting. OK, kinda rude. She followed it
up by saying she was afraid that there would only be losers
on a dating site. She didn't seem to understand that I was
on that dating site, so she was essentially calling me a loser.
OK, even ruder.
I asked her what musicians she liked besides P!nk and she
said she didn't like her. Oops—I realized that I was thinking
of someone else's profile! I tried to play it off, but she knew
what I had done and said, "I think you're reading too many
dating profiles." After the rally, she got us lost trying to take
me to the subway which was alarming to me because I didn't
know the area at all. What a jerk! I decided she was right:
I was officially doing too much online dating." – Helen N.
"I was at Dyke Night at House of Blues, and this really hot person was dancing with me. In the middle of showing her my smokin' hot moves,
I realized that I didn't have my wallet. I freaked out and began frantically searching for it. She said, "Oh…it was on the floor," and retrieved it
from her pocket to hand to me. To this day, I can't decide if she just danced with me to pickpocket me or if she really thought I was cute." – Dana R.
"So my favorite and most memorable date was about 10 years ago. My new love had taken me out to a very nice dinner. I invited her in when she took me home. We kissed for the first time. My roommate offered us
some "special" brownies, so we sat in my kitchen feeding them to each other. We ate way too many. We ended up on my bed and unable to stand up to go back to the kitchen for water. We helped each other walk while
leaning on the walls. When we went back to bed, we ended up having to just lie there for several hours until she was okay enough to drive home." -Jodi S.
"I had a date at Trident Cafe before iPhones were a thing. We chatted a bit beforehand, and I guess I gave him my last name. At Trident, we settled in at the counter with some mochas. He proceeded to recite my resume, personal life details, and assorted history! I was completely freaked out because this was before the days when it was normal to check out someone's online footprint before meeting. I got out of there and vowed never to give my last name before meeting a date!" – Susan G.
On a blind date at a diner, I went up to the counter and asked a guy there, "Are you David?" He said, "Yes, are you Susan?" We began talking and were
having a nice time until another David came up and asked my name. I had started the date with the wrong David! We all laughed, and David #2 and I
got another table nearby. The other Susan came in and we helped her find David #1. Truth be told, I liked the first David better." – Susan G.
"I had been booked as the keynote speaker at a historic trans event and had ended a pretty long-term relationship the night before I was set to travel. Arriving, I was full of emotion but stuffed it all down and put on my public-figure face. A few days in, the evening following my successful keynote, I found myself having a thoroughly excellent time with this very cute trans woman I had been nursing a crush on. Much to my delight, the crush
was mutual! Drinks led to flirting, flirting to kissing, kissing to my hotel room. Soon, we were hot and heavy, and this lovely trans woman began to give me a delightfully pleasant blow job. I relaxed. Every bit of reserve and carefully maintained public face fell away. And I began to sob. Not just a
few little tears mind you, but heaving, uncontrollable, post-break-up sobbing. I gently lifted my rather startled and confused sexy friend up towards me and held her in my arms. Tried to assure her, through the tears, that it wasn't her, really, it was a very well-done blow job. But the moment was thoroughly shattered, and she returned home. We remain friends, though never again more than that. I always feel super awkward when I see her. How do you properly apologize for ruining a perfectly good blow job with a sudden crying jag?" – Ange
"At the time of this date, I had created this spacey, somewhat proper, utterly sweet & bizarre character named Tiggy Upland and was blogging as her. I met this woman more or less through the blog. Our first date was seeing this fantastic indie film on rap that she suggested. Her entire essence was
pretty much the opposite of what you might expect from a rap connoisseur. Afterward, we went out for sushi, and she gifted me a few little notebooks. She was quiet and nervous; a bit strange but generous and kind. I kept getting the feeling that we had met before .With a mouthful of edamame, I realized: holy crap, I was dating Tiggy Upland. All she needed was the pink hair. Later, I used those same notebooks to write every episode of the webcomic, Upland. Weird." – Jen B.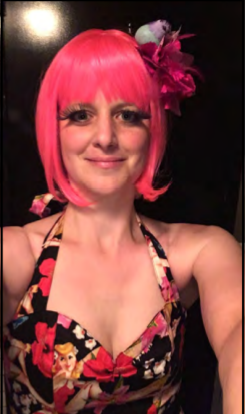 Tiggy Upland lives and works in a hostel in Boston. You can find her advice column, blog, webcomic, and various media at www.tiggyupland.com.